Daughter of the Lilies - 7.20
<!–– 1950 ––>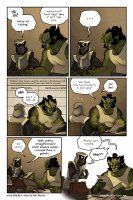 New comic!
Today's News:
<!DOCTYPE html PUBLIC "-//W3C//DTD HTML 4.0 Transitional//EN" "
http://www.w3.org/TR/REC-html40/loose.dtd
">
dun dun dunnnn
There is a slight chance that the comic will go on break next week. It depends on what kind of workload I have outside of comic duties and obligations. I'll keep y'all updated.
Post edited by BellisPerennis on