Daughter of the Lilies - 7.26
<!–– 1950 ––>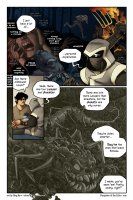 New comic!
Today's News:
<!DOCTYPE html PUBLIC "-//W3C//DTD HTML 4.0 Transitional//EN" "
http://www.w3.org/TR/REC-html40/loose.dtd
">
http://www.daughterofthelilies.com//dotl/509" target="_blank">We've heard her say this before...

Here we go! We finally get to learn a little bit more about Drath and some vague hints as to Thistle's backstory again.
Daughter of the Lilies Subreddit

EDIT: Reminder that Drath will say anything they think will hurt, weaken, and/or traumatize, so literally nothing they say can be trusted. Be aware of this as you move forward with your theories!
Post edited by BellisPerennis on