Daughter of the Lilies - 7.28
<!–– 1950 ––>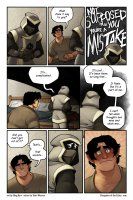 New comic!
Today's News:
<!DOCTYPE html PUBLIC "-//W3C//DTD HTML 4.0 Transitional//EN" "
http://www.w3.org/TR/REC-html40/loose.dtd
">
WEEOO WEEOO THISTLE IS TALKING ABOUT HERSELF AND HER PAST WEEOOO WEEOOO
So, this is why it's ideal to nip things in the bud; if you don't know what to look out for or arm yourself with knowledge or ways to treat things like this, it becomes harder and harder to differentiate between yourself and whatever is causing you pain. Acknowledging the need for help is not a weakness; it's a sign of maturity and self-awareness.
Post edited by BellisPerennis on